Hi everyone! Hope everyone is having a great evening. Before I share some great news, I wanted to tell everyone that I participated in the Pole to Pole 5K Fun Run in Sea World, San Diego, CA. It was super fun. The Sea World Characters were cheering us on. I completed the run with the time 41.33. Not bad for my second 5k. Happy to have done it.
Alright, now onto my big Exciting News. I am truly honored to announce that I am now a
Ginger Snap Scraps Girl.
I have made it onto the Design Team. I am super excited to be selected on this Design Team. I look forward to working with the other talented ladies that have made the team. Thank you Cori, who is the owner of Ginger Snap Scraps for this great opportunity. Plus, if you haven't heard but Cori has started the Ginger Snap Scraps Online Store where you can find your crafty needs such as adhesives, stamps, paper, etc. Definitely head over for a sneak peak or check out the amazing goodies that are in her store. I know you will love what you see.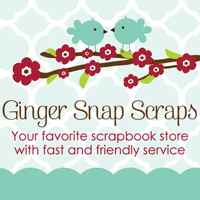 The Ginger Snap Scraps design team would like to celebrate by giving everyone a 10% off coupon code for one order.
This coupon expires Monday, April 30!
*10% off will not work on Provo Craft items.
Please be sure to head over to Ginger Snap Scraps Blog to see the other ladies that have made the team. I would also love it you become a follower. Once you arrive, you will also find a link to her store to check out all the great goodies.
Thank you everyone for letting me share this great news with all of you. Don't forget to take advantage of this coupon we have for you. Alright, nighty night friends.