Welcome to the "Snow Much Fun" Getting Cricky Blog Hop!!
We're so happy you could join us for this month's Getting Cricky Design Team Blog Hop!! In addition to Kristal and the Senior Design Team, we look forward to introducing you to the rest of our NEW Junior Design Team (be sure to visit Kristal's Blog to see ALL of our "new additions"!!)... Each of us, along with our
Special Guest - Patty from "Creative Diva"
, are so pleased to have you here with us!! Throughout the hop, you'll see NEW ideas for creating cards and projects with Kristal's stamps sets!!
If you've hopped along from
Kristals Blog
then you are in the right place!! If you are just joining me from your dashboard, or reading this via email, please be sure to
CLICK HERE
to start at the beginning with
Kristal's blog
(you'll want to catch up on all the FUN!!)...
Each of Kristal's stamp sets benefit charity. At least $1 per stamp set goes to benefit the charity noted on the stamp set package. Kristal is donating to the following charities: Cancer Angels, Storefront Shelter for Homeless Children, Intrepid & Fallen Heroes, E. Glaser Pediatric AIDS Foundation, Doorways Shelter for Women & Children (Domestic Violence), Wayside House for Women, Camp Good Days & Special Times, Adopt a Classroom, and Autism Research Institute. Kristal will donate $1 for every stamp set sold, retail or wholesale to the charity noted; and over time believes this will add up to some wonderful miracles for these special people. So you can feel good that each time you purchase a K Andrew Designs art stamp set, someone around the country is receiving some good help!
K Andrew's stamps are all made and assembled here in the USA, which is very important to Kristal. This ensures all product materials are safe and that jobs are being provided and maintained here in America. You can learn even more about Kristal's stamps (and pick some up for yourself) by visiting her online store:
K Andrew Designs
:
Kristal's stamp sets are perfect for cards, layouts, and so much more...
For my project, I'm featuring the Splashtastic Summer Stamp Set. For more details or to make this set YOURS, please click on the preview:
Before I begin to introduce my project, I would like to begin by thanking Kristal for having me as a Featured Guest Blogger.I truly feel honored and excited to participate in this hop. I have loved using Getting Cricky Stamp sets as I enjoy playing around with the words and seeing what I can build with them. For my project, I wanted to create a Snow Sentational Treat for kids and adults for the Winter Holiday Season. Two months ago,I attended the Scrapbook Expo in Ontario, CA and took one of the workshops which was called The Buzz Chics where I learned different card techniques. There is one that I really enjoyed making which worked perfectly for this hop.
First: Cut Teal card stock at 10-1/4 x 3-1/4.
Second: Cut Snowflake Paper from Recollections Christmas Pack measured at 10 x 3 and adhere to the teal strip.
Third: With the Snowflake paper facing down, score at 3", 3-3/8", 6-3/8", 6-3/4", and 9.5"
Fourth: Pre-fold at all score marks.
Fifth: Punch 1st 3" section with 1-3/4 punch, centered. (I didn't have that punch but I manually cut a circle out.)
Sixth: Adhere treat to inside back of card with glue dot. As for mine, I placed a Snowman Cookie inside a mini bag.)
Seventh: Fold punched side over; adhere with stacked glue dots.
Eighth: Fold front over top of candy.
Ninth: I cut a tag from Winter Frolic Cartridge: Snowman2 page 29 at size 2.
Tenth: Then, I used Getting Cricky Splashtastic Summer Stamp Set and put together words to make it say, "Wishing you a Snow Day." For the word Snow, I used the letters separately from the different words to make it say snow.
Eleventh: Then, adhere tag to front of treat favor with a decorative ribbon.
"Front of Card"
"Inside of Card"
"Side of Card with Treat inside"
"Back of Card"
Materials:
Winter Frolic Cartridge: Snowman2 page 29 for Tags
Recollections: Christmas Paper Stack
Colorbox Ink: Blue Lagoon
Celebrate Occasion Ribbon: Silver
Getting Cricky Stamp Set: Splastastic Summer
Teal Card Stock
Glue Dots and Pop Up Dots
Xyron Tape Runner
Pillsbury Pre-Made Holiday Cookies: Snowman
Who would love to win some "
BLOG CANDY
" ?
One lucky winner will get to win an awesome (Random) Stamp Set from Getting Cricky.
Here are some simple requirements:
Winner will be announced on Monday, December 19.
1. Become a follower (if not already, and let me know you are)
2. Leave a comment telling me what would be the perfect holiday treat you would love to receive from someone and your email address to notify you if you win.
Thank you again for checking out this cool Snow-Sensational Treat Holder and be sure to show some love to everyone on the hop as they have made some amazing projects.
Now you can hop on over to your next stop:

Lisa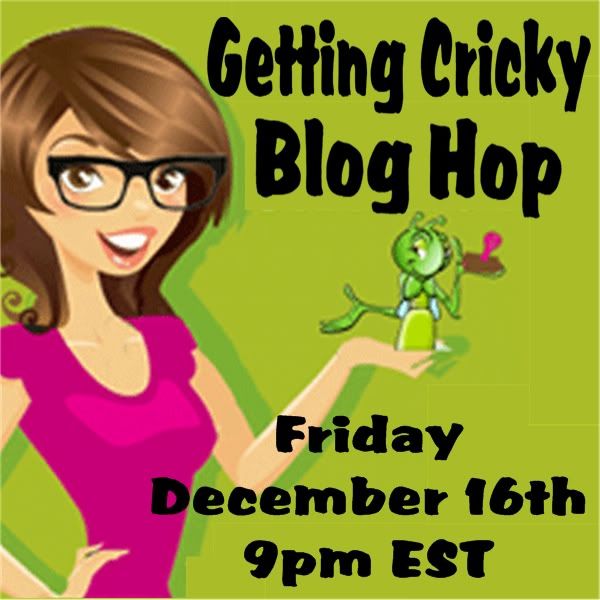 ........................................